Snow Plowing
Rock Work Inc.'s service area for snow plowing is limited to a ten mile radius of Blue Bell, PA.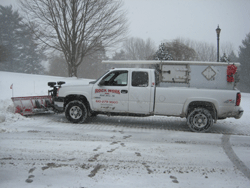 Commercial Snow Removal
When our heavy duty pickup trucks aren't hauling explosives or when our skid steer loaders and backhoe loaders aren't placing stemming on a shot, we use this equipment for snow removal. Our experienced CDL drivers and equipment operators provide around the clock service to make sure your parking lots are "dug out" after winter storms. The loaders are equipped with snow pushers to make them even more efficient for larger commercial parking lot areas. This equipment can also be used to stack snow after large storms and load trucks to remove the snow from your property.