Delaware Rock Blasting Company
---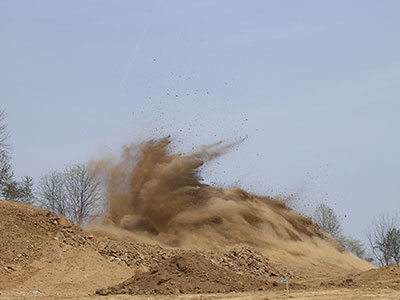 Rock Work Inc. is a leading rock blasting company that provides quality rock blasting services in Delaware. We are a fourth generation, family owned and operated rock blasting company and specialize in construction blasting, quarry blasting and rock blasting for DE residents. We have the required licenses and permits for storage, transportation and use of explosives in Delaware, New Jersey, New York and Pennsylvania, so you know you're working with professionals. All of our team members are extensively trained for safety and all types of rock removal services in Delaware.
At Rock Work, we pride ourselves on our professionalism and ability to handle projects of any size. We provide drilling and blasting services for construction projects in DE. We have drilled and blasted rock for the construction of hospitals, wastewater treatment plants, churches, airports and many other residential and commercial projects. No matter how big your rock blasting project is, you can trust the experts at Rock Work Inc. to have you covered. If you're looking for a rock blasting company for your construction project in Delaware, contact us today to request a quote.
Rock Blasting DE - Quarry Blasting
---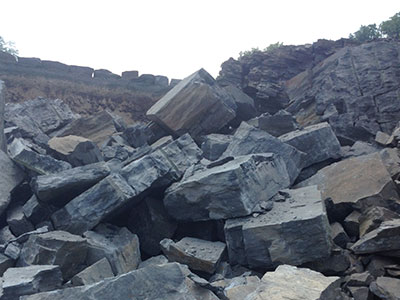 In addition to construction projects, Rock Work Inc. provides small and intermediate diameter rock blasting services to quarry operations in DE. We offer this to operations for the production of aggregate, building stone, fill, and mandated high wall/quarry reclamation. We also offer rock blasting for construction projects within quarries, such as for sump pit excavations, crusher relocations and more. If you have any questions about the rock blasting services we provide, give us a call at (610) 279-9500. We take many variables into consideration when discussing Delaware rock blasting projects, so that we leave no stone unturned before the work begins.
The reason we discuss all variables of construction or quarry blasting is so that we can help develop a cost-effective plan for the safe completion of your project and follow all proper protocol. We customize all project costs based on your specific needs, so if you have a budget you need to stay within, let us know and we can discuss it with you. We make ourselves readily available to answer any and all questions our clients have. When you hire Rock Work for your rock removal in DE, we're here to get the job done right. We have a commitment to keeping our services safe, on-time and cost-effective, so when you're looking for rock blasting companies in Delaware, give us a call for your estimate and we will exceed all expectations.
Our DE Rock Blasting Services Include:
Rock Blasting Service
Construction Blasting
Quarry Blasting
Rock Splitting
Rock Drilling Service
Blasthole Drilling
Quarry Mining
Commercial Rock Blasting
Residential Rock Blasting
Darda C20 Rock Splitters
If you're looking for a Delaware rock blasting company or are in need of construction blasting, quarry blasting or rock blasting services in DE, call Rock Work Inc. at (610) 279-9500 or fill out our contact form to request a free quote.
---
Rock Work Inc.

Blue Bell, PA
Phone: (610) 279-9500
Contact us today to request an estimate