Rock Splitting Services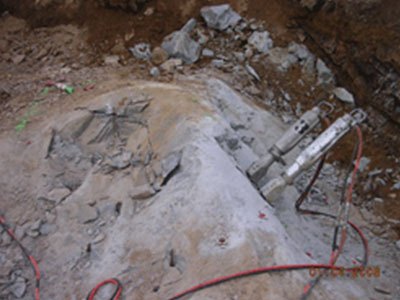 Hydraulic Rock Splitting
When blasting is not allowed or the rock needing to be removed is minimal, Rock Splitting might be the best alternative. No Permits, and minimal noise and vibration! Rock Splitting works best for the hardest rock and boulders - typically the same rock that doesn't break well from hammering. Multiple sizes of Rock Splitters to match your project needs!
C12 Rock Splitter
The C12 Rock splitter is the largest hand operated rock splitter made by Darda. This rock splitters weighs about 70Ibs and is moved around by hand and powered by a hydraulic power pack. This splitter utilizes 1.75 inch holes drilled with either a hand-drill, Jack Leg, or one of our mini drills. The force created by this splitter is in excess of 800,000lbs! Multiple C12 splitters can be used together to create even more force to break the hardest rock!
---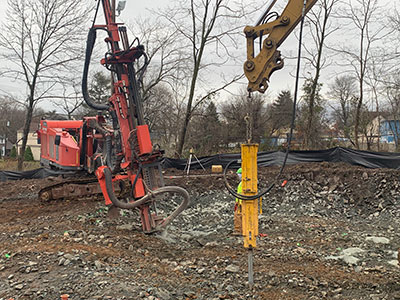 C20 Rock Splitter
The C20 is the newest and largest rock splitter ever made by Darda with Rock Work Inc. being of the few contractors in North America to own one. This rock splitter weighs about 700lbs and requires an excavator to move and power the splitter. This excavator mounted rock splitter utilizes 3-inch diameter holes typically drilled with a rock drill. This force created by this splitter is in excess of 3,600,000lbs of force! This splitter works best for the biggest rock jobs with very hard rock.
If you are looking to get large boulders or solid rock broken and split, call Rock Work Inc. today for our rock splitting services.
Contact us today to request a free estimate