Lehigh County Rock Splitting Company PA
---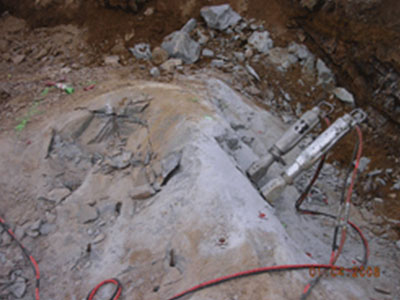 Rock Work Inc. is a leading rock splitting company that provides professional rock splitting services in Lehigh County PA. Rock Work is a fourth generation family owned and operated rock splitting company. We are fully licensed and insured in Pennsylvania, New Jersey, New York and Delaware, and specialize in rock splitting, rock blasting and rock drilling services for clients in the Lehigh County area. Our team members have extensive safety training for all types of rock removal services in Lehigh County Pennsylvania.
Rock Work prides itself on its professionalism and ability to handle projects of any size. Certain geologic formation are restrictive, making it difficult to complete a project. At Rock Work we have the necessary tools and training to handle any rock splitting in Lehigh County PA. We also have the highest grade equipment, utilizing Darda C20 Rock Splitters and their high productivity and safety. This allows us to quickly and easily break large boulders and solid rock. For Lehigh County rock splitting projects, it also has the benefit of being quiet and safer than demolition or explosives. If you live in Lehigh County and are in need of rock splitting services with C20 Rock Splitters, contact us today to request a quote.
Rock Splitting Lehigh County Pennsylvania - C20 Rock Splitters
---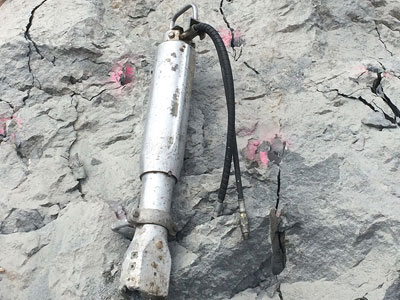 We aim to provide alternate solutions in Lehigh County areas where demolition methods aren't permitted, which is why we use high-grade tools and equipment with our Rock Splitters. Our rock splitting professionals can increase productivity in industries such as mining, tunneling or mining, as well as construction and demolition. We also take many variables into consideration when discussing a project with you. In Lehigh County, it's important to consider the local conditions, distances to utilities, rock cut, the depth of the cut, and more.
We take all of this into consideration so that we can help discuss a cost-effective plan for safely completing the project. All of our projects are custom tailored to the specifics of the work. If you have a budget you need to stay within, let us know. When you hire Rock Work for your rock splitting project in Lehigh County, we well discuss the project in-depth with you. We are committed to providing safe, on-time, and cost-effective hydraulic rock splitting and rock removal services for your specific needs. When you're looking for rock splitting companies that use quality equipment in Lehigh County PA, give us a call at (610) 279-9500.
Our Lehigh County Rock Splitting Services Include:
Hydraulic Rock Splitting
Rock Removal Services
Rock Blasting Service
Rock Drilling Services
Darda Rock Splitter C20
Non-Explosive Rock Removal
Expansive Mortar
Blasthole Drilling
Relief Drilling
Test Drilling
If you're looking for Lehigh County rock splitters or are in need of hydraulic rock splitting services in Lehigh County PA, call Rock Work Inc. at (610) 279-9500 or fill out our contact form to request a free quote.
---
Rock Work Inc.

Blue Bell, PA - Serving Lehigh County PA
Phone: (610) 279-9500
Contact us today to request an estimate