Blasthole Drilling
Rock Work Inc. has a modern and well maintained fleet of hydraulic and pneumatic rock drills capable of drilling blastholes ranging in size from 1.75 to 5.0 inches in diameter. Our employees have the required annual MSHA Part 46 safety training and we are a registered MSHA contractor. Rock Work Inc. is a Penn DOT prequalified drilling and blasting subcontractor, and a NJ Public Works Contractor.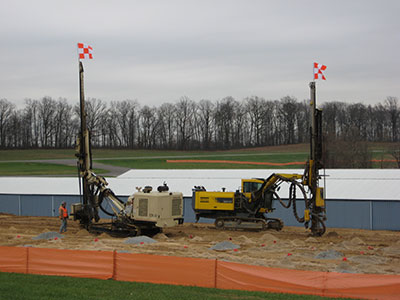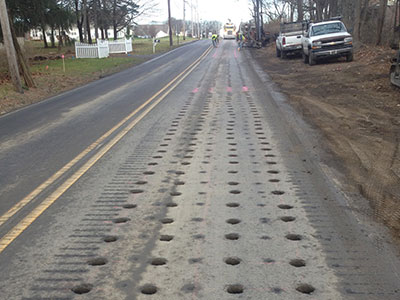 Relief Drilling/ Neat Line Excavation Control
In certain rock formations, and when blasting is neither feasible nor allowed, relief drilling may be a good solution. Holes are drilled into the rock on a very closely spaced pattern to weaken the rock for the hydra-hammer. The holes increase the productivity of the hammering and sometimes even eliminate the need to hydra-hammer. No permits are required. Neat line excavation control involves drilling closely spaced holes along the perimeter of an excavation to prevent over break of the rock beyond the desired limits.
Test Drilling
Rock Work Inc. can test drill your site to determine if rock conflicts with proposed excavation elevations. This information is critical in the formulation of budgets and project schedules. Test drilling can also be done to identify or confirm the presence of site specific geological anomalies, including, but not limited to, sinkholes, underground mines, and poor soils.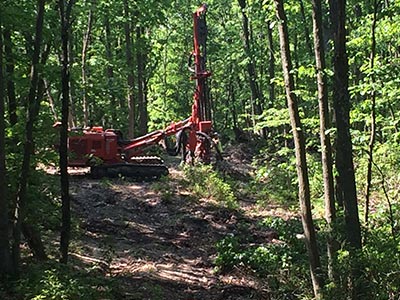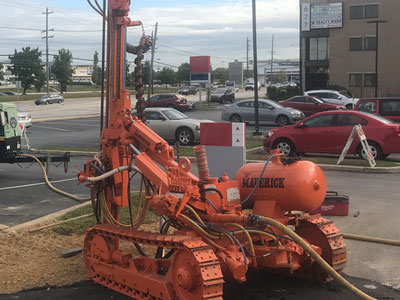 Mini Drill- Maverick
The Maverick mini rock drill is a limited access machine perfect for tight areas. This rock drill is less than 6 feet wide and weighs less than 6,000lbs and is able to drill holes ranging in diameter from 1.75 inches to 3.0 inches and depths up to 60 feet. The overall height of the tower is 13 feet and can be modified for a specific project to make it even shorter for low clearances. The machine has one lifting hook on the boom, making it very easy to lift the drill into and out of tight, limited access excavations such as shafts. This drill is perfect for drilling grounding rod holes, rock splitter holes, storm water management baffle posts, fence posts, shaft excavation blast holes, pressure/compaction grout support drilling, and indoor drilling for pools, elevator shafts, and foundations.
Contact us today to request a free estimate